Montréal, May 11, 2022 – Montreal real estate developer Devmont is proud to announce that it has made a major donation of $150,000 to the MultiCaf community cafeteria, a community organization dedicated to food security in the Côte-des-Neiges neighborhood in Montreal. As a partner since 2001, Devmont has accumulated nearly a million dollars in donations to support the mission of this organization.
We are very happy to see that our donations and those of our partners can make a real difference in our communities," said Sam Scalia, president of Devmont. MultiCaf's mission is close to our hearts and knowing that we have been providing essential support to its survival for many years makes us particularly proud.
Sam Scalia, president of Devmont and Jean-Sébastien Patrice, general manager of Multicaf
The MultiCaf community cafeteria offers economical meals and several emergency food services to more than 3,000 civic addresses in the Côte des Neiges/Snowdon district, in Montreal. More than 7,000 low-income people benefit from its healthy food services. MultiCaf's goal is to reduce the need for its services in the neighborhood. Thanks to donations from Devmont, the organization was able to expand its kitchen and modernize its facilities in 2018, allowing it to serve more meals to those in need.
"With the significant sums paid by Devmont and its partners over the past few years, we have been able to help an impressive number of people by providing them with healthy food choices and several other support resources," says Jean-Sébastien Patrice, General Manager of MultiCaf . The pandemic and its effects have hit our community and our organization hard in 2020. This year, without the financial support of Devmont and its partners, we would have had to close our doors and cease our activities. It is reassuring to be able to count on the support of responsible companies that care about the well-being of our communities; this allows us to carry out our mission.
Many Devmont partners have also rallied to the cause, including Ventilation Volmair Inc., Portes & Fenêtres ADG, Entreprises Electriques Grufil Inc., Plomberie Jacques Thibault & Fils Inc., Bau-Québec Ltée., Acier d'armature Vimada Inc. , Coffrage Forma, Carrelage Casco Inc., Stekar Systems Inc., BSG Inc., Hardwood floors Barwood Pilon, Béton Hi-Tech, Ébénisterie Hi-Teck Inc., Ramp-Art, Surface Imports, Ruel & Frère Ltée, the contractors DPE Ltée, Ritcher SENCRL/LLP, Urgo Hotels Canada, Crochetière, Petrin, Camitec Concrete Finishing Inc., Samcon, Proment, PA Supermarkets, Leroux Cote Burrogano, Peintures Filmar Inc., Lexcial Law Firm, Cathy Monticciolo and Frank Cianci.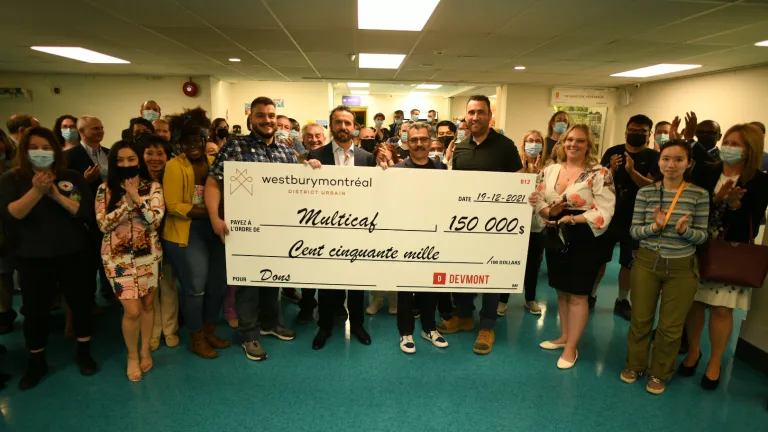 From left to right (holding the cheque): André Corbeil, deputy general manager of Multicaf, Sam Scalia, president of Devmont, Jean-Sébastien Patrice, general manager of Multicaf and Joseph Scalia, vice-president of Devmont.