In the rapidly evolving world of tech and innovation, Devmont has always been at the forefront. Our commitment to creativity, collaboration, and community has seen us grow from an emerging building company to an industry leader. Today, we're elated to introduce you to the next chapter in our journey: our brand-new office space nestled in the heart of our newest project, Westbury Montreal.
Stepping Inside the Modern Elegance
Upon entering our new office, you will be immediately amazed. Our modern and sophisticated design is evident right from the sleek reception area that welcomes employees and visitors alike. This isn't just an office; it's a statement of our dedication to quality, aesthetics, and comfort.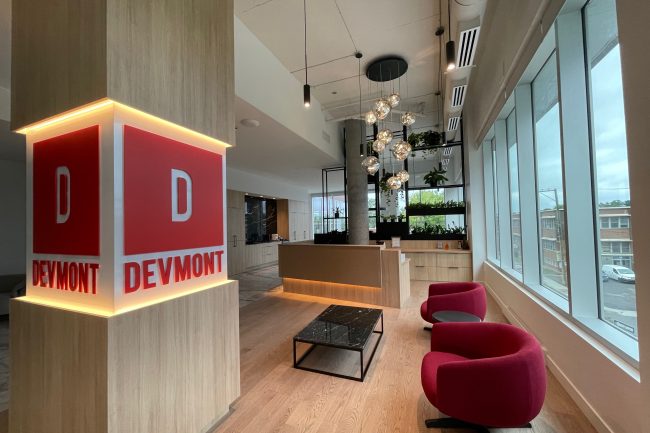 The spacious kitchen, complete with its magnificent island, acts as a communal hub for coffee breaks, lunch, and those ever-so-important informal brainstorming sessions. Designed with both collaboration and relaxation in mind, it's a space where the best ideas are brewed along with the coffee.
A Space that Speaks of Innovation and Relaxation
Beyond the elegant common areas, the open working space is where the magic truly happens. Emphasizing teamwork and fostering creativity, this area is the heartbeat of our company. Whether it's a project manager planning our new development, our marketing team brainstorming a new campaign, or a team lead mapping out project milestones, this space accommodates all with grace.
Yet, all work and no play can dull even the sharpest minds. That's why our Game Room is an integral part of the office design. Fancy a friendly match of pool or foosball? It's all right there, allowing for those much-needed breaks to recharge and come back to the desk with renewed vigor.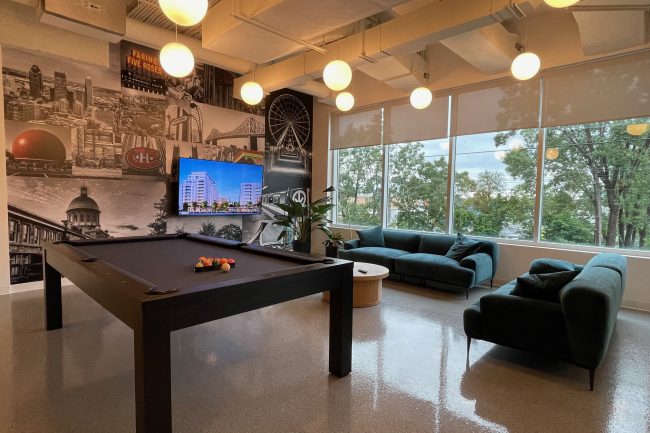 Local Artistry Meets Corporate Excellence
Our connection to the local art scene remains unwavering. Our conference room, often the place of intense discussions and decision-making, proudly features a replica of the breathtaking art wall. This masterpiece, crafted by renowned local artists such as Carmelo Blandino, Jason Botkin, Kevin Ledo, and Melissa Del Pinto, was born from our charity event in March. Every time we step into this room, we're reminded of the community we belong to and the impact we have been creating.

The Road Ahead
Our relocation to 5139 Av. de Courtrai suite 300, Montréal, H3W 0A9 is more than just a change of address. It's a declaration of our aspirations, our dreams, and the heights we aim to achieve. With this new space, we see endless possibilities – projects to be kickstarted, challenges to be overcome, innovations to be introduced, and milestones to be celebrated.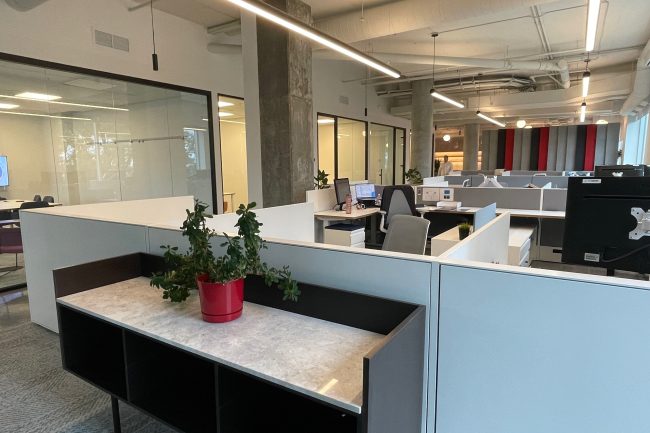 This office stands as a testament to our journey thus far and the even more remarkable journey that lies ahead. Its walls echo our ethos: innovation, community, and progress. Every corner has been meticulously planned to encourage brainstorming, foster collaboration, and celebrate achievements.
Let's Shape the Future Together
We've always believed in the power of collaboration, both internally amongst our teams and externally with our community and partners. And now, with our new space, we have the perfect environment to bring these collaborations to life.
The future is bright and filled with endless possibilities. As we step into this new chapter with enthusiasm and determination, we're not just moving to a new address; we're moving towards a brighter, more innovative future. And we'd love for you to join us on this exciting journey.
Together, let's make great things happen!